Live Love Give Auction Program
I, N'neka Scruggs, am a local Atlanta Wedding and Portrait photographer and have photographed cover photos for Atlanta Parent magazine and been published in several other national publications and blogs. I specializes in helping people who feel awkward in front of a camera or think they're not photogenic. I works with clients to create a beautiful portrait that not only shows them at their best but also shows who they are as a person. After a photo session, my clients always tell me how relaxed and fun it was and how excited they are to see their photos. The end result is they're grateful to have beautiful photos that they are proud to display on their walls.

The "Live, Love, Give" auction program allows select charities to choose one $600 Custom Portrait gift certificate or unlimited Buy It Now gift certificates, where she will donate as many $100 gift certificates as you can sell at the auction. These certificates are for a studio or Stone Mountain portrait session and a Loft portrait.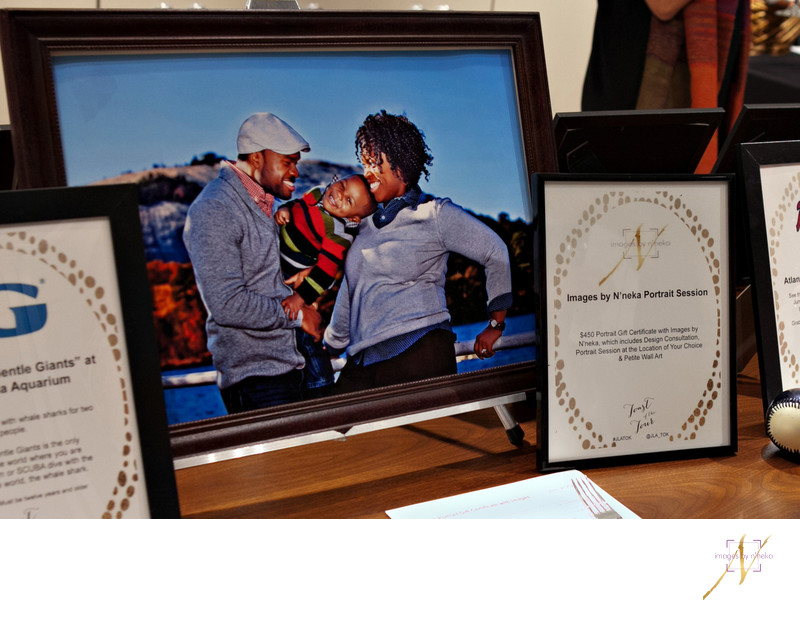 CUSTOM PORTRAIT GIFT CERTIFICATE

Custom portraits are designed to capture your personality as well as your appearance. I will work with you to create a beautiful portrait that not only shows you at your best but also shows who you are as a person.

Since custom portraits are tailored to your family's unique personality & interests, they are about an hour long and take place at the date & location of your choice. You can my studio, your home or another meaningful location to your family. They can be scheduled any time within 6 months of the auction.




Click here to learn more about the portrait process.




LIMITED EDITION PORTRAIT SESSION

Limited Edition Portraits are a short 20 minute photo shoot. They are a great way introduction to Images by N'neka, where you can have creative & professional portraits taken at a discounted rate. L.E. Portraits are more simplified than Custom Portraits and are designed to get great images quickly by limiting your options.

L.E. Portraits are only available on select dates throughout the year, at either my Midtown studio or Stone Mountain Park. They are only available for immediate families.

Large families of 6 or more will require two session fees. You will be shown 10-12 images, and will choose from a set list of collections.




Includes:

Design Consultation
Portrait Session ($300 value)
11x14 Framed Portrait ($350 value)






Includes:

Phone Consultation
Limited Edition Portrait session fee ($150 value)
An 11x14 Loft Portrait ($150 value, pictured below)











TERMS & CONDITIONS
Charity Terms
There should be tabletop space for Medium Framed Portrait, album & brochures next to the bid sheet. Arrangements should be made for pick-up and drop-off.
Winning bidder must pay for Certificate at the conclusion of the auction or charity event.
Certificate may not be raffled or bundled with other prizes.
Portrait Certificate Guidelines and Terms of Use for Winning Bidder should be displayed with bid sheet.
Minimum starting bid for Custom Portrait is $250.
Contact details for winning bidder should be provided after the auction ends.
Bidder Terms
Limit 1 per person, may buy 1 additional as a gift.
Certificate is not transferable, has no cash surrender value, nor is it refundable.
Winner is responsible for all applicable sales taxes.
Certificate is not valid until the Gift Certificate Number is registered with Images by N'neka. Call to register it.
May not be used for Headshots, commercial photography, PR or Business Portraits
Must be surrendered at time of service.
The product portion of the gift certificate expires Two months (60 days) after the photography session without an order.
Copies of certificate are not valid.
Cannot be used with any other promotional offers.
Use of Portrait Certificate indicates an acceptance of the Terms of Use.
All studio policies apply.