I HELP

people who feel awkward in front of a camera or think they're not photogenic. I will work with you to create a beautiful portrait that not only shows you at your best but also shows who you are as a person. After our photo session, my clients always tell me how relaxed and fun it was and how excited they are to see the photos. The end result is they're grateful to have beautiful portraits that they are proud to display on their walls.

| | |
| --- | --- |
| | |


1
First will start with chat over the phone where I'll learn a little about you and your needs and give you an overview of my services and prices. If you like what you hear, I'll send you the details to book your photo session. Portrait sessions begin at $300. All prints, digital files and products are purchased separately.
2

The excitement starts here with the

planning consultation

! I don't just show up and shoot and hope for the best. I want to make your personality shine! The first step in creating the vision for your photos is to get to know you/your family/your business.




Plan on about an hour to discuss your vision (or create one if you don't have one). We'll pick the perfect location and clothing that fits your vision. I'll give you the best options for displaying your portraits.

3
This is where the fun begins! My photo sessions are filled with laughter and genuine, natural smiles. Since I already know your goals, I'll compose photos to fit perfectly above your mantle, or fill the coffee table book for your living room, or welcome visitors to your website.
4
The fun doesn't end with the photo session. Imagine going to your very own movie premiere! Your photos will be "premiered" in a cinematic slideshow. My goal is to provide you timeless heirlooms. You'll choose your favorite images and I'll design your own custom artwork with them. I can even show you how your images will look hanging in your home. You'll finalize your purchase and I'll start processing your order right away. My best sellers are framed portraits and books, which start at $400.

If you have a growing family, you'll want to plan for future portraits. You can add your next session fee for the lowest cost available.
5
About 4-8 weeks later, depending on the product, your portraits will be ready for pick-up. Orders over a certain amount qualify for free delivery. I can even arrange for installation in the perfect spot in your home.


FAQ
DO YOU HAVE A STUDIO?
Yes. I have a beautiful indoor/outdoor daylight studio located at The Goat Farm in Midtown. With tall ceilings, floor to ceiling brick walls and plenty of outdoor locations, this character filled studio is not you average backdrop and prop shop. Click here to see a photo session taken at my studio.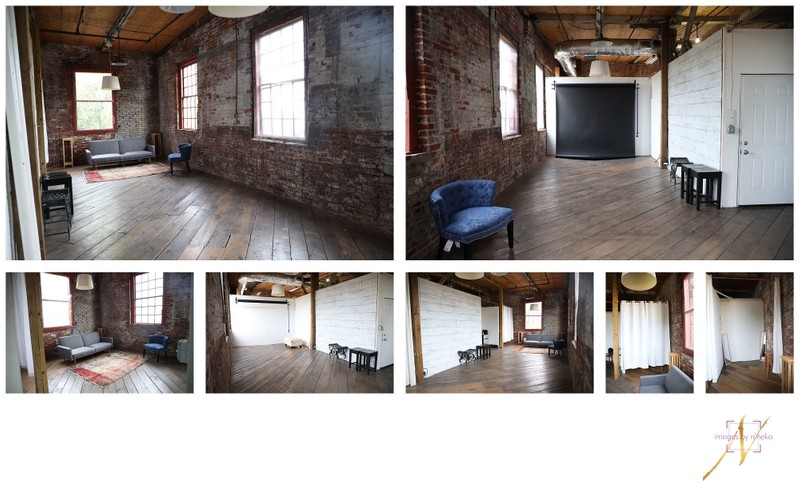 DO YOU USE PROPS? WHAT KIND OF BACKGROUNDS DO YOU HAVE?
I don't use props or themed backgrounds. I prefer the focus of my sessions to be all about you and your interaction with your loved ones. Rather than props or backgrounds, I prefer to shoot on location in a setting that is meaningful to you. In twenty years this will say more about you than an artificial item I may have in my studio. Of course, you are encouraged to bring personal items of significance to your session.
CAN YOU HELP ME CHOOSE A LOCATION?
Yes, I have a list of recommended locations all over metro Atlanta. We will discuss the portrait consultation. Please see the Portrait Process for more details.
CAN YOU RECOMMEND A MAKEUP ARTIST?
Yes, I know several, good makeup artists. If you would like to use one, I can make all the arrangements for you. You will need to allow an hour for makeup. Their fee is not included and will be an add-on to your portrait session.
HOW FAR IN ADVANCE SHOULD I SCHEDULE A SESSION?
Portrait sessions generally require 2 weeks notice but cannot be scheduled more than 4 weeks in advance. Portrait Collections may be scheduled up to 8 weeks in advance. Please inquire if you have a specific event for which you want to insure my availability.
HOW DO I BOOK A PORTRAIT SESSION?
Click Reserve Now under your preferred portrait session to pay your session fee and sign a portrait agreement. Next, you'll schedule your Phone or Design Consultation. If you have a preferred date & time for your portrait session include it in your comments, otherwise we'll schedule it during your consultation.
DO YOU OFFER PACKAGES?
Yes, I offer "create your on collections" which allow you to get up to a 30% savings when bundling products together. My portrait collections are designed to offer the best value while allowing the most flexibility. Best of all, you get to choose exactly what you want without being locked into purchasing products you don't need. Inquire for more details.
HOW MUCH IS AN 8X10?
Gift Prints, 8x10 and smaller, are not the focus of my studio and are only available with a collection, wall art or album purchase. An 8x10 portrait is $75 or less depending on which Portrait Collection you choose.
CAN YOU COME TO MY EVENT AND TAKE PORTRAITS OF MY GUESTS TO SELL?
I offer a variety of event photography including candid coverage as well as portraits of attendees; however I do not shoot on speculation. My fees must be paid in advance to allow for adequate staffing and equipment for your event. If you'd like to offer your guests the option of purchasing portraits, the cost should be included in the registration fee or as an optional add-on which is paid in advance of the event. Please call to discuss the logistics of how this may work.
DO YOU OFFER ANY SPECIALS OR DISCOUNTS?
Yes. Please sign up for my newsletter and like my Facebook page to find out about any specials that may be offered.